You have planned the perfect Disney trip. Your travel agent has booked your resort stay, purchased park hopper passes and booked your FastPasses and dining reservations for you. The hard work is done and now you just need to pack and go. But what to pack? I know, I know, you want to look cute and you're ready to post some major Instagram worthy photos. But before you pack those wedge shoes and crop tops, check out this list of do's and don'ts of Disney parks fashion. Your feet will thank me later.
Don't: No Flipflops, boots or wedge heels! – I can't stress this one enough. I know you probably wear sandals all summer long, I know I do. But consider this – the average Disney park goer walks 10,000 to 30,000 steps per day. Now multiply by the average 3 to 5 days most people do in the parks. Your flip flops may be cute and colorful but the blisters and band aids you wear by the end of the first day are not. Same goes for boots, wedges or anything with heels. You'll look cute but you will be dying within a couple of hours. Take your super cute shoes with you but save them for your dinner reservations. The last thing you want to do is spend some of your souvenir money on sandals or slippers in the parks when you had your eyes on those cute rose gold ears on Main Street U.S.A.
Do: Wear sneakers – The first thing I tell clients is wear sneakers. Be sure to buy some good walking sneakers and break them in at least a couple weeks before your trip. Bonus points if you get some arch supports as well. Your feet will be taking a major pounding and some extra support can help fight feet fatigue (I personally wear SuperFeet insoles). If you must wear sandals, the only kind I approve of are Birkenstocks or something similar. True story – my sister wore flip flops the first day and was in agony, so she borrowed my sneakers the rest of the trip. I took my "granola shoes" as she called them and had no issues. My "granola shoes" had arch support, thick cork sole and nothing rubbing between my toes. I was a happy camper.
Bonus tip – Wear socks with your sneakers. Going barefoot in your kicks is just asking for blisters. Ouch.
Don't: Purses or oversized totes – It's instinct to grab your purse and take it with you wherever you go. Every day we walk out of the house with a mental checklist – purse? Wallet? Keys? But this time carrying that cute bag is just going to get in the way and kill your shoulder. I carry my daily life with me in my purse but when at the parks I really don't need to carry the reward card from Sephora or my kids' library cards. Plus, I would be devastated if I accidentally left my purse on an attraction knowing that my entire life was in that one cute Coach bag.
Do: Backpacks and Fanny Packs – Just typing out "fanny packs" I can hear my 14-year-old daughter's life collapsing! But Heavens do I love my fanny packs! When we go to the parks, we usually have kids with us but there is no way I am carrying everything for a family of 6. When the kids got a little older, we purchased each kid a small backpack. This way they were responsible for carrying their own snacks, water bottle and sweater (I held on to their tickets and money of course). It made the load a little lighter for my husband and I and the kids learned quick how to be responsible and that they did not need to bring every toy and trinket with them to the parks. With our older kids being adults now we can separate inside the parks, taking their own bags, and no one needs to worry about being without sunscreen or money. Now that we have the baby, we take advantage of the stroller space. It is so much easier to run around the park with a toddler when your hands are free and everything you really need is right at your waist. In my pack I always carry my credit cards, cash, id, small sunscreen and phone. I will occasionally take a cross body bag but by the end of day the strap has cut in to one shoulder. You are better off carrying a backpack with padded straps that will evenly distribute the weight.
Don't: Wear your Disney Princess costume – As tempting as it is to go dressed to the nine's in your Cinderella costume, Disney does not permit it and for good reason. Say you're a small child walking through Disney and you see a woman dressed like Cinderella. Immediately you are going to run up to her and ask her questions or ask for an autograph. Now imagine that Cinderella was rude to you or did not act like you imagined Cinderella would. Crushing and confusing for a child. Disney has hired some of the most amazing Characters to roam the parks and do meet-and-greets. These Cast Members spend countless hours perfecting their craft and never break character. They come out at certain times of the day or year and in specific areas of the park for a reason. Just like everything else Disney, Characters are meticulously planned and perfected. The only exception to this rule is small children. If your little one wants to dress as a Princess, Pirate or other Disney character, encourage it. The Bibbidi Bobbidi Boutique inside the parks can be added by your travel agent to your package for an extra special treat for your little boy or girl or for more information on this contact us at RopeDropTravel.com
Do: Disneybound or show your Disney side – Disneybounding is not the same as Cosplay. Going in Cosplay is going dressed exactly like a character, with every tiny detail added. Instead do a Disneybound. Disneybounding is a term for dressing with certain characteristics but not the same. For example, I recently did a Disneybound as Ariel from The Little Mermaid. My hair was red at the time, so I wore a purple tank top and a green corduroy overall skirt. The color scheme was obvious to what character I was trying to portray and I did not have any children asking me for an autograph. Similarly, my sister wore red shorts, blank top and yellow sandals. Once she put on her mouse ears it was obvious, she was showing love for Mickey Mouse himself without going overboard. Another option is to show your Disney side meaning rock your cute new Minnie Mouse top or one of the new Disney jerseys you can find in the parks. Rock your Mickey or Minnie Mouse ears and that adorable new Disney backpack. Show that Disney love!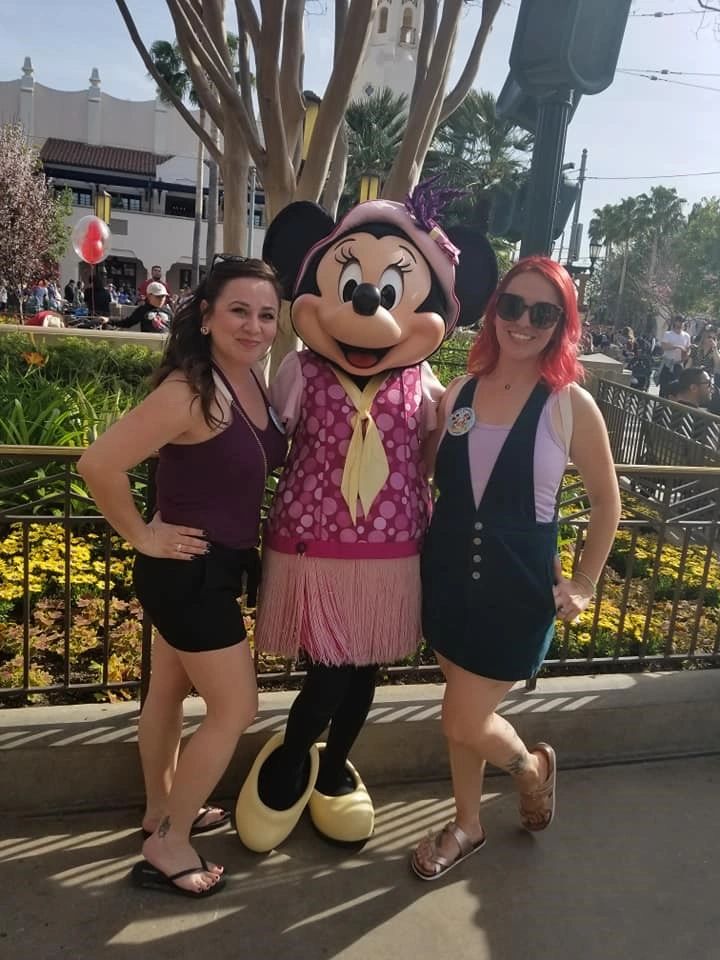 Don't: Wear anything vulgar or obscene – This is an obvious one but it still needs to be stated. These are family parks and chances are you are going with kids. So don't push it by wearing a top with something rude on it or wearing clothes that your mother would disapprove of. People go to the Disney parks for good clean fun. Now is not the time to wear that shirt you found so funny or clothes that are inappropriate. Here's a general rule: if you would not wear it in front of your favorite Grandmother then don't wear it to the parks.
Do: Dress comfortable and prepared – It is highly likely that you are going to be in the parks for several hours each day. If your outfit is uncomfortable but cute you are going to be miserable and not so cute in 10 hours. Stick to the basics. Wear shorts, jeans or athleisure wear. Soft t-shirt and some sneakers will be your best friends. Dress in layers no matter what the season. You may be hitting up the parks mid-July but if you are arriving early for Rope Drop (always suggested) or you have Extra Early Magic Hour it may be a bit chilly at 6:30 in the morning. You can wrap your sweater or pack it in your bag when it gets warm. You will be happy to have it accessible when you are shutting down the park at midnight and the temps have dropped. In Florida rain is a very common occurrence so pack a poncho or extra shirt in case you get wet. Sunglasses are essential whether in Florida or Southern California so pick up some good ones to accessorize with. I like Goodrs because they're 100% polarized and don't slip off your nose. Always be prepared for comfort.
For more articles on all things Disney parks related check out www.RopeDropTravel.com.
Ready to plan your Disney vacation? Contact Renee Cuessy at Renee@RopeDropTravel.com
Follow on Facebook at fb/ReneeRopeDropTravel
Follow on Instagram @butterbeer_Mickeyears